Meet the Team at
Life in Motion Chiropractic Center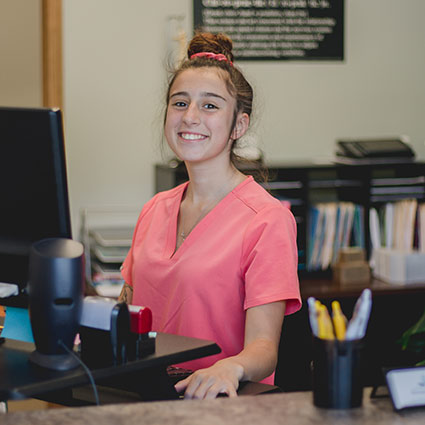 Taylor, Front Desk Chiropractic Assistant
Hi! My name is Taylor, I am the front office assistant. I help around the office being a second hand to the doctors. I have one-on-one conversations with the patients and try to help as best as I can when it comes to supplements and CBD products. I also answer the phone and speak to patients about scheduling, ordering, etc… I plan to take my career in chiropractic further and I am planning on going to chiropractic school. I enjoy working here because I can retain knowledge that I will be able to use and help me have a base knowledge of chiropractic for school.
Taylor's Favorite Food: Crab Legs
Taylor's Favorite TV Show: H2O Just add Water
Taylor's Favorite Color: Maroon
Taylor's FAQ:
What is the best way to go about scheduling appointments?
The best way to schedule is to schedule all your appointments for the upcoming week is to schedule them the week before so you know you will be able to get in on that specific day and get the appointment times you want.
What is the best way to get in touch with the doctors?
The best way to get in touch with the doctors is to either email lifeinmotion@outlook.com or call the office at 724-745-1533 and we can set up a time to have a one-on-one conversation with the doctors.
What is your favorite part about working at the office?
My favorite part is creating a relationship with every patient that walks through our doors to help reassure them that they are in the right place, and we will do as much as we can to help them.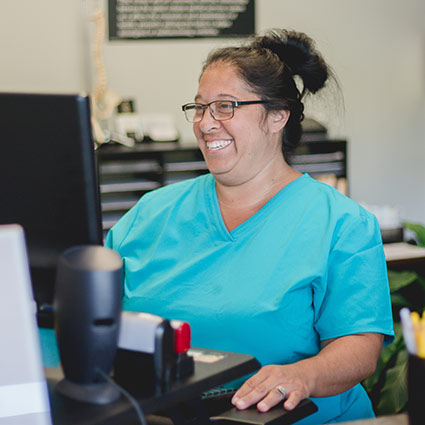 Tammy, Office & Billing Manager
I love this job! My bosses, coworkers and the environment are amazing. I love the interaction with patients and knowing that the little things I can do can really make the whole visit a positive one.
My job is amazing and all because of the doctors and how great they are. They make you a part of their family. I love interacting with our patients too.
One question I get all the time is "What is covered under my insurance and what is my copay?" I tell them to bring in their insurance card.
Tammy's Favorite Food: Tacos
Favorite TV Show: All American
Favorite Color: Yellow
---
Meet the Team at Life in Motion Chiropractic Center | (724) 745-1533