Meet Dr. Beth Smolick-Reese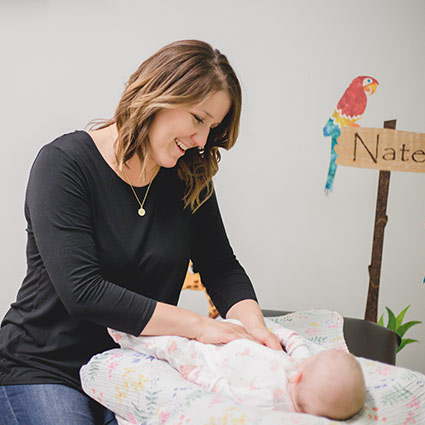 Since being a chiropractor and educating my family about its importance, my mom always says "I wish I had known then what I know now." As an infant and child, I had seizures, colic and ear infections persistently. Additionally, I had aspirated fluid during the birthing process and my parents nearly lost me. But that life force inside of me prevailed!
Unfortunately, it was not until I was 15 years old that I saw a chiropractor. I had an injury during cheerleading that my mom finally took me. First, we had tried the osteopathic pediatrician, who mobilized my spine, but the pain was still there.
Someone had then suggested that I to go to a chiropractor. We went, it helped me tremendously and I decided that is what I want to do the rest of my life!
A Chiropractic Education with a Focus on Nutrition
I knew I had always wanted to help people, grew up in a household that did everything naturally and also wanted to work with children. Not only did I have an interest in chiropractic, but also nutrition. I went on to Pennsylvania State University to earn my Bachelors degree in Nutritional Sciences. A week after graduating from Penn State, I made the journey to Life University College of Chiropractic in Marietta, Georgia. My life has not been the same since. I learned about how the power that made the body heals the body, that the body heals from the inside-out, not the outside-in, and how even infants can receive chiropractic care!
I always knew I wanted to work with children as well as adults, and that is when I decided to take a 200-hour certification program in pediatrics through the International Chiropractic Pediatric Association. It is through this that I became certified by the Academy of Chiropractic Family Practice and the Council on Chiropractic Pediatrics (CACCP) and Webster's Technique, which is a specific chiropractic analysis and diversified adjustment. The goal is to improve neurobiomechanical function in the sacral and pelvic regions.
It is during this program and working with Dr. Laura Hanson that I started focusing on children with developmental delays, but doing so also ignited my passion to work with all infants, children, and pregnant women. Part of this grows from the fact that my infancy and childhood was plagued with these ear infections, seizures and colic. If my mom had taken me to the chiropractor as an infant or child – just imagine how much healthier I could have been! I realized how important it is to start chiropractic care while in the womb, after birth, and as a child because keeping a child's nervous system healthy from the ground up is essential to having a child functioning at his or her optimum for life!
Thoughts, traumas and toxins can impact us on a daily basis. That is why I try my best to practice what I preach to my patients. I don't take a decongestant if I am under the weather, I get adjusted and boost my immune system naturally. I don't get vaccinated. I eat well, sleep well, exercise, and get adjusted regularly. This keeps my nervous system functioning at its optimum, which in turn keeps every other system in my body functioning at 100%!
Yes, Dr. Nathan and I are a husband-wife team in the office and yes, we love it… after all, we are a family practice! You will sometimes find our daughter, Liza, and son, Palmer, at the office with us, too. Outside of the office, you can find me with my husband, my kids, friends and family. I'll likely be cooking, entertaining, exercising, watching a good movie or show, walking our dog or practicing yoga. I also love our dog, Ollie, an Old English Sheepdog – who you might even have the privilege of meeting him at the office! I'm a huge Penn State fan and love watching the Steelers and Pens.
Start Your Better Health Journey!
We look forward to meeting with you and learning how chiropractic can fit into your health care goals. Contact us today to get started with chiropractic care.
---
Dr. Elizabeth Smolick-Reese | (724) 745-1533